McLean County Museum
~~Welcome to the McLean County Museum~~
We are located in Washburn; the Grandest Little City on the Missouri River.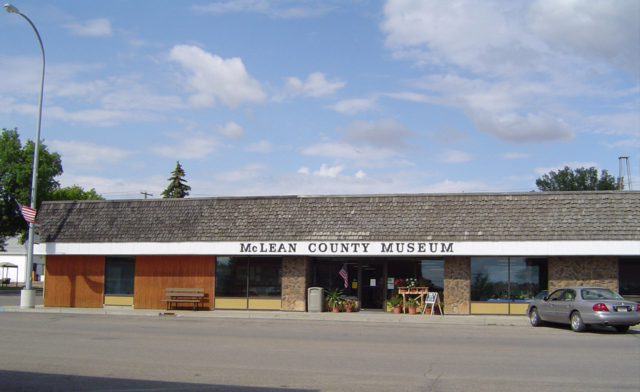 We are delighted that you have chosen to visit our website and hope you have an opportunity to personally visit our museums and historic sites in the Washburn area.
The McLean County Historical Society, organized in 1967, preserves the history of McLean County and North Dakota and shares it with the public in a series of museums located in Washburn, the McLean County seat. Included in the museums is the building, the Joe Taylor Cabin, the Sioux Ferryboat and the Nettle Creek Schoolhouse.
In November 1968, the Society opened the McLean County Museum in the 1905 Courthouse. Fred Jefferis and many others collected donated items to be displayed.
In 1969, the Society researched and built Fort Mandan (a replica of where Lewis and Clark wintered in 1804) , west of Washburn. This was the first project of the historical society. Construction of the fort was completed in 1972. The Society owned and operated the fort until they leased Ft. Mandan to the Lewis & Clark Bicentennial Foundation in 1997. The North Dakota Parks and Recreation Department took over the lease in 2015.
The Society has history on Lewis & Clark and Sakakawea, plus a fine display of Indian artifacts and Mclean County history. The Museum also has many display about McLean County and North Dakota.
Presently the Society maintains the building on Main Avenue in Washburn. The original museum was named after Fred Jefferis, our first curator. This building originally was McLean County's second courthouse and it is on the National Register of Historic buildings. It was removed Oct 2021. The main building was purchased in 1997 and is located on Main Avenue.
Location and Hours
Washburn is located in central North Dakota on the Missouri River about 40 miles north of Bismarck or 70 miles south of Minot on Highway 83.
The museum is located in the 600 block of Main Avenue (corner of Main Ave and 6th Street).
The Joe Taylor Cabin
is in the 1000 block of East Main Avenue.
T

he Sioux Ferry
is along the Missouri River on Boat Ramp Road as is Nettle Creek School, the one-room schoolhouse.
Please begin your tour by visiting the main museum building for further directions.
Museum Season: May-October Hours:
Monday to Friday: 10:00 am to 4:00 pm and Saturday: 1:00 pm to 4:00 pm
Open by appointment during winter months or after hours.
Admission: Free-will Donations
Email: mcleancounty.nd.museum@hotmail.com
Facebook: McLean County Historical Society
Curator: Rhonda Johnson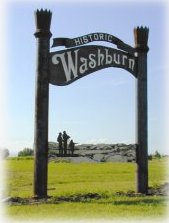 Contact Info
Locations
McLean County Museum
602 Main Avenue
Washburn, ND 58577
701-462-3660

Please leave a message if no answer on the phone.